A mission, to open hearts
 "THE FIRST FAMILY OF CAFÉ-RESTAURANTS TO CONTRIBUTE TO THE PROFESSIONAL INCLUSION OF PEOPLE WITH MENTAL AND COGNITIVE DISABILITIES"
In France, 700,000 people are diagnosed as having autism spectrum disorders and 65,000 are carriers of Trisomy 21. They are two to three times more affected by unemployment than the rest of the population. Only 0.5% of people with intellectual disabilities work in the mainstream.
In addition to providing an innovative solution for the inclusion of the people recruited, Café Joyeux intends to repair this inequality. In 2017, the first solidarity restaurant Café Joyeux was created, employing and training people with mental and cognitive disabilities.
A vision
We want to open hearts to difference for a better world.
A mission
The inclusion of the fragile in the world through work and encounters.
An ambition
To develop a family of quality café-restaurants to recruit and train people with mental and cognitive disabilities.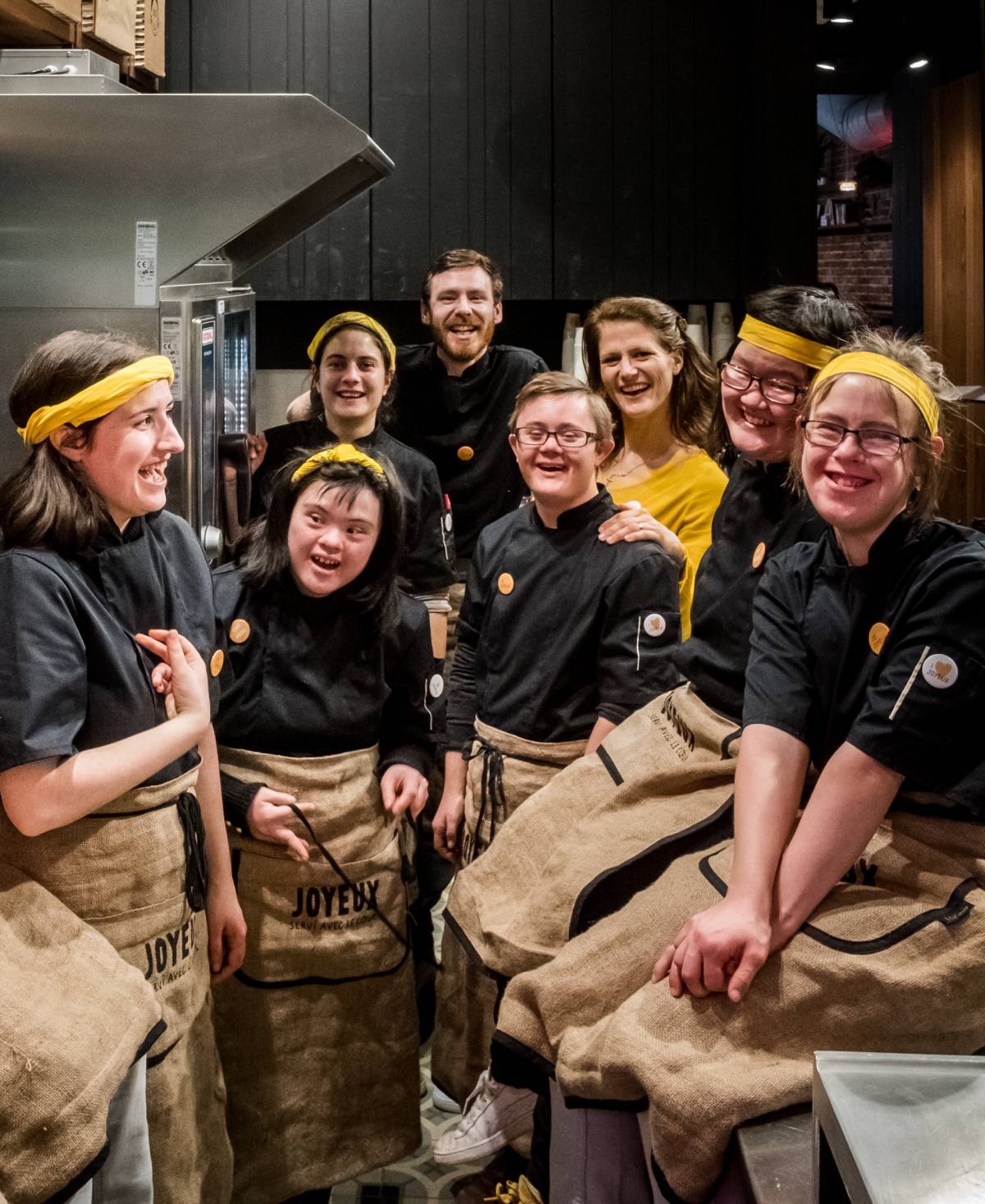 After the recruitment phase, our cheerful team members start out as interns or on loan from the organisations in which they find themselves.
Once their skills have been assessed, our Merry Men are recruited on a permanent basis and trained by our Merry Training Centre (CFA), a team made up of specialists in HR, management, cooking and specialist educators.
They are then assigned to functions adapted to their abilities and are supervised by professional and caring managers in the restaurant business: reception, cashier, kitchen and room service.
Café Joyeux allows each of its team members to gain confidence, gain experience and feel fully involved in the company. The objective is to allow our happy team members to discover and reveal their talents and to progress within a committed team to show that difference is a strength in the economic world.
Coffee shops in
Rennes, Paris, Bordeaux, Lyon, Tours, Montpellier, Nantes and internationally in Brussels, Lisbon and Cascais
Joyful team members in a situation
mental and cognitive disabilities
Managers and catering professionals
accompany and train them
Brand of specialty coffees in
beans, capsules and ground coffee

whose products are shipped by a team of
Logistician FM Logistic having within it an adapted company (EA) to which we call for the preparation of our orders
Guests came to eat
in our Happy Cafés.
Cups of Café Joyeux have been enjoyed
at home and in the workplace !
BEAUTIFUL
And because it is in the little things that the magic of an atmosphere lies, we take care of our decoration by welcoming you in unique places at the heart of our lives. The decoration of our cafés-restaurants is signed by Sarah Poniatowski, founder of Maison Sarah Lavoine and interior designer. Because BEAUTY is one of the values of Café Joyeux, it takes on its full meaning for the well-being of our teams and our guests.
GOOD
At Café Joyeux, we also have culinary convictions: respecting the seasons, sourcing the best products and favouring short circuits. Everything is home-made and seasonal at Café Joyeux! A gourmet menu, cooked and served every day with the heart by our cheerful team members. For several months now, chef Thierry Marx and his team have been working with us to enrich our food offer in our cafés-restaurants.
REAL
Because nobody is perfect! Our team is unique, always professional and proud to welcome you in their 15 Café Joyeux in France and abroad. The joy of our team is to share with you convivial and extraordinary moments.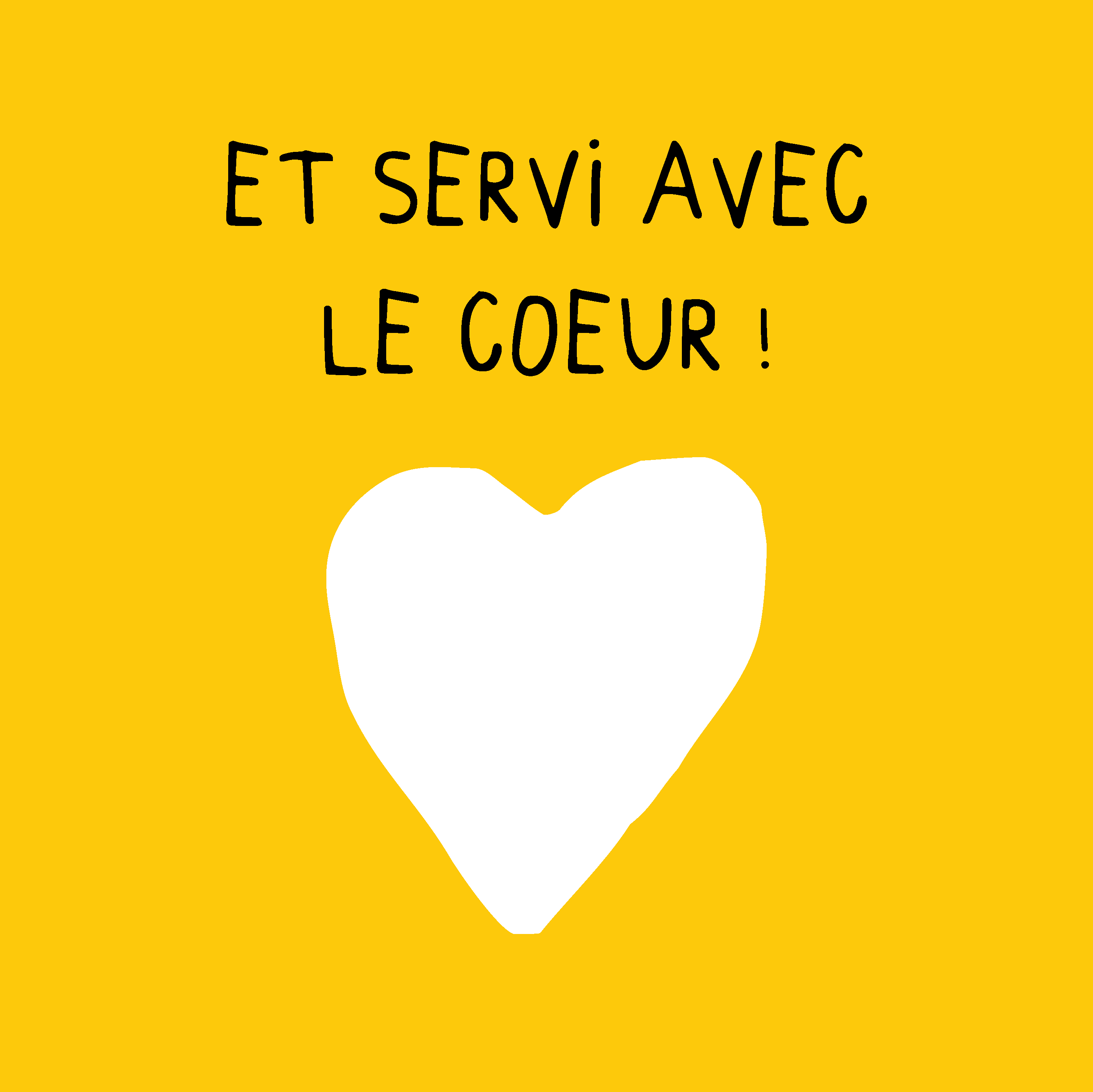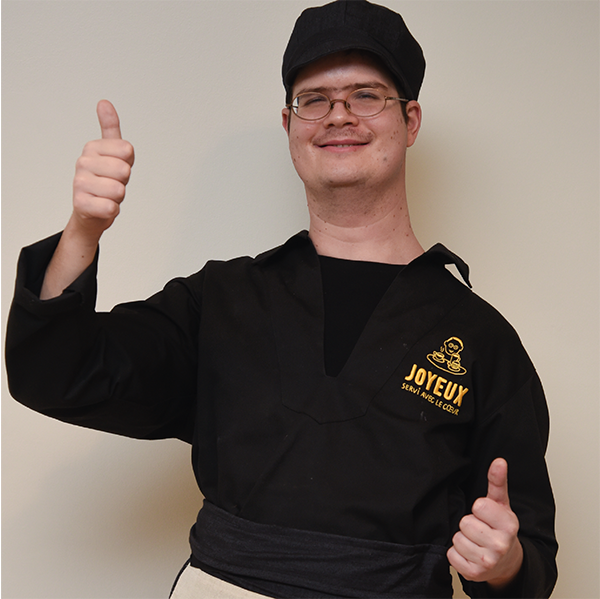 A POSITIVE (R)EVOLUTION IN THEIR LIVES
Becoming an "ordinary" employee at Café Joyeux changes the daily life of our joyful team members, but also of their families and/or loved ones.
"We were relieved when Nicolas was hired at Café Joyeux. We are very proud. When he gets up in the morning, he is happy to go to work, [...], he is proud to be useful, he has self-esteem, he feels better about himself ! "
Brandon, employee on a permanent contract at Café Joyeux in Rennes since 2017
"This job has brought me a lot of happiness, because I have made a lot of friends since I arrived. I said to myself I am like the others and even if I am disabled, I can work, I can have a flat, I can have everything."
"I would be happy to work for you, that would be my greatest gift. I want to exist in this working world."
"I am happy to work here because it makes me smile. It gives me joy to be around people."