Café Joyeux Shop in Paris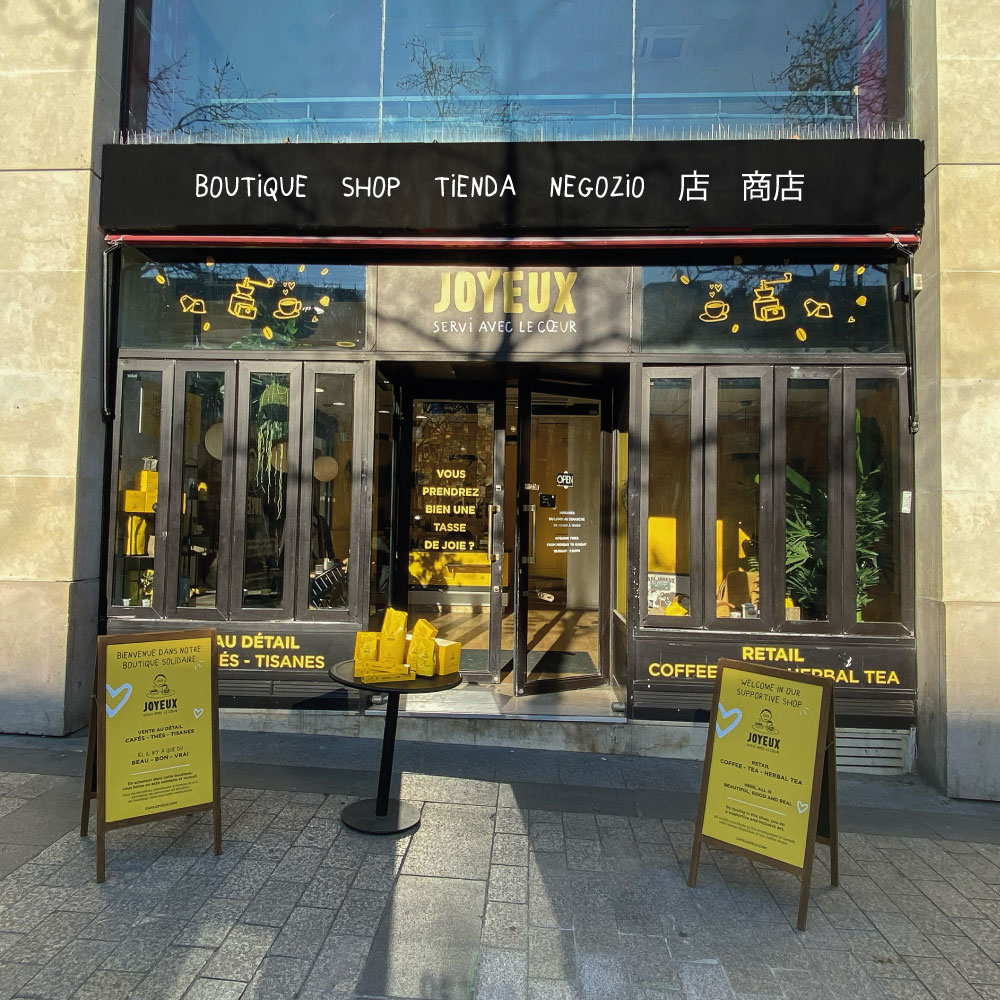 A CAFÉ JOYEUX SHOP ON THE AVENUE DES CHAMPS-ÉLYSÉES
Open every day of the week since December 2022, our ephemeral boutique is located just a few steps away from our Café Joyeux Champs-Élysées. It offers a wide range of products including our range of coffee beans, capsules and ground coffee as well as our exceptional teas and herbal teas in collaboration with Betjeman & Barton. Our selection of cheerful objects is also highlighted through a selection of essential accessories: T-shirts, sweatshirts, aprons, totebags, down jackets, notebooks, kits and school bags.
Before or after your happy break, come and discover our new shop and support us by taking a picture of yourself in our #InstaJOIEmable corner and tagging us with #cafejoyeux. A real warm place to live in one of the most touristic areas of the capital.
144 avenue des Champs-Elysées, 75008 PARIS.
PUBLIC TRANSPORT
Underground :Charles de Gaulle-Etoile ligne 1, 2, 6
RER : A
Bus :164, 22, 341, 52, 73, 92
PAYMENT METHOD
Credit card & Cash
CAFÉ JOYEUX IS ALSO ONLINE SHOPPING DELIVERED AT HOME
FIND OUT ABOUT OUR OTHER SOLIDARITY CAFÉS JOYEUX​
COFFEE SHOPS
in Rennes, Paris, Bordeaux, Lyon, Tours, Montpellier, Nantes, Brussels, Lisbon and Cascais
JOYEUX TEAM MEMBERS
with mental and cognitive disabilities
MANAGERS AND CATERING PROFESSIONALS
accompany and train them