Would you like a cup of joy?
DISCOVER OUR COFFEE, TEA AND HERBAL TEA ONLINE SHOP
Buying Café Joyeux products such as coffee, tea or herbal tea means making a gesture in favor of the disabled. Discover our Nespresso compatible coffee capsules, our ground coffees, our coffee beans but also our teas and herbal teas. All our products are available for sale online and are delivered within 24 hours to your home. Our coffee is sourced in a sustainable and authentic way and is categorized in so-called "specialty" coffees.

SOLIDARY ORDER CONTRIBUTES TO THE EMPLOYMENT OF DISABLED PEOPLE

ALL OUR COFFEES ARE ROASTED IN FRANCE


CUSTOMER SERVICE BY PHONE
Our cheerful team members welcome you to our café-restaurants in Rennes, Paris (Champs-Élysées, Opéra, Olympia), Bordeaux, Lyon and Tours. All our recipes are homemade with fresh and seasonal products. We offer you a different menu and a veggie menu every week.
CAFÉS RESTAURANTS
in Rennes, Paris, Bordeaux, Tours, Lyon and Lisbon
JOYEUX TEAM MEMBERS
with mental and cognitive disabilities
MANAGERS AND RESTAURANT BUSINESS PROFESSIONALS
who accompany and train the Joyeux team members
OUR OFFER IS ALSO AVAILABLE FOR DELIVERY :)
You are only one click away from your happy/ joyeuse order at home or in your company!
100% of the profits from coffee sales and other objects are directly reinvested in the opening of our restaurants. 

100% OF THE PROFITS CONTRIBUTE
to the development of our cafés-restaurants
ALL PRODUCTS ARE FRESH
seasonal and home-made every day

COOKED AND SERVED WITH THE HEART
by our Joyeux team members
CAFÉ JOYEUX CAN ALSO EQUIP YOUR COMPANY
A CUSTOMIZED OFFER ACCORDING TO YOUR NEEDS
Do you want to take a joyful break from your company? Enjoy Café Joyeux in the office and support disability inclusion in our café-restaurants.
A SPECIALTY COFFEE THAT IS INCLUSIVE AND SOLIDARY
Assembled by a "Meilleure Ouvrière de France", our coffee is roasted and packaged in France. Part of your orders are prepared by people with disabilities.
A sustainably sourced and authentic coffee that meets quality criteria identified by specialists, thus classifying it as a "specialty" coffee. This term designates coffees marked with a score of 80/100 by the SCAA (Specialty Coffee Association of America). Only 4% of the world's coffees have this designation.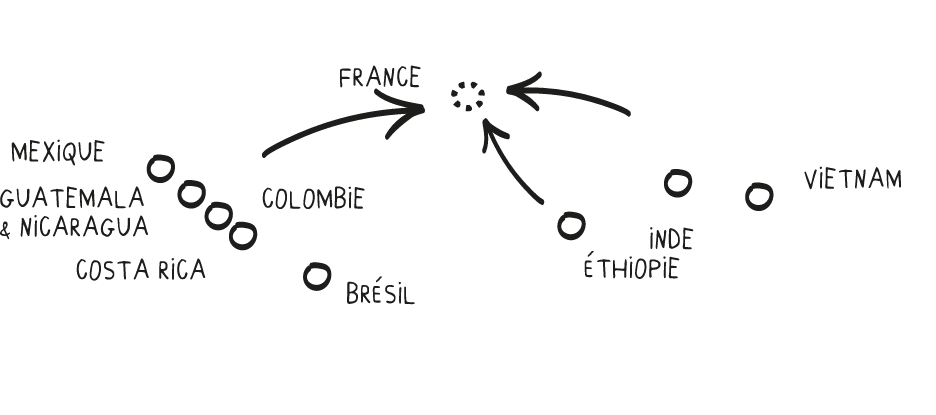 Many of you have been supporting our project since its inception in 2017.  Motivated by your enthusiasm and numerous requests for support, we launched a brand of eponymous inclusive coffee beans, capsules and ground coffee (Nespresso® compatible) in 2018.  
PROFITS FROM ITS SALES CONTRIBUTE TO THE DEVELOPMENT AND EMPLOYMENT OF PEOPLE WITH DISABILITIES.