Coffee x50 aluminium capsules Le Déca-lé
Delivery from 07/12/2023
Free delivery from 100€ of purchase!
Description
NESPRESSO COMPATIBLE ALUMINIUM CAPSULES**
Déca-lé, quality coffee decaffeinated with mountain water*. Durable and authentic. Produced by a "Meilleur Ouvrier de France", it is made and assembled in Strasbourg from a blend of carefully selected beans according to a method that reveals the maximum of these beans grown essentially in Mexico. It is a "specialty" coffee, a term given by the SCAA (Specialty Coffee Association of America) to only 4% of the coffees tested. Harmonious in its flavours, it combines greedy notes of dried fruit, dates and hazelnuts, aromas of red fruit, a touch of lemon and, on the finish, notes of caramel and liquorice. Experience it at any time of day!
*Brand owned by a third party with no connection to Café Joyeux
DELIVERY
Don't waste a minute to taste our exceptional coffees - our delivery is express... oh!
THANK YOU IN ADVANCE
Your order contributes directly to the opening of new Cafés Joyeux and the recruitment of our team members.
SERVICE
A question, a little problem, a comment? Our friendly customer service is at your disposal.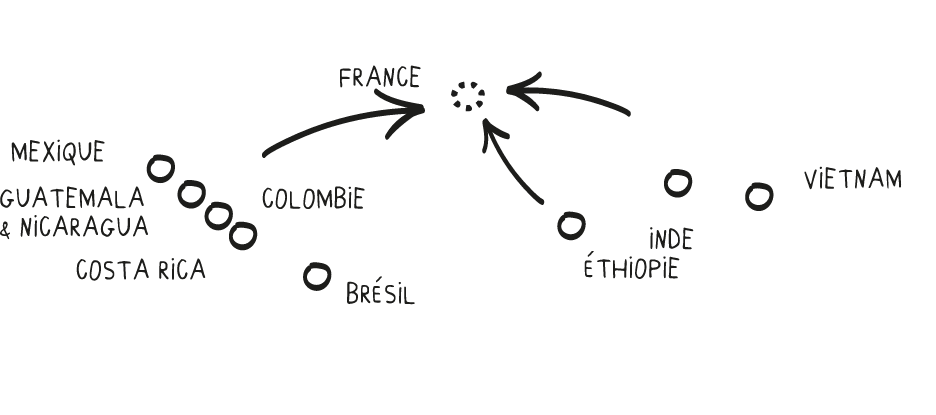 THE PROFITS FROM SALES CONTRIBUTE TO THE DEVELOPMENT AND EMPLOYMENT OF DISABLED PEOPLE.
We offer you a high quality coffee. It is sustainably and authentically sourced, and meets quality criteria identified by specialists, thus classifying it as a "specialty" coffee.
Our sourceur travels the world, no less than 18 countries, to find the finest coffees. He studies the geographical location of the plantation, the nature of the soil, the altitude, the sunshine, the climate but also the varieties and harvesting methods in order to guarantee the sensory qualities of the coffee. We use the "picking" method to select only ripe cherries by hand. This is a long and difficult method, which requires 4 to 8 passes per coffee tree. Depending on the fermentation and the quality of the drying, the coffee will develop different and particular aromatic profiles. To develop our range of Cafés Joyeux, we work with a traditional roasting workshop in Strasbourg which works on different recipes called "blends". The blend allows us to better balance the aromatic palette of the coffee and thus to appeal to the tastes of as many people as possible. All our recipes are created by a "Meilleure Ouvrière de France" (MOF). All our coffees are roasted in France.
DISCOVER OUR OTHER CATEGORIES