History of our coffees
Roasting a fair trade coffee is already ethical but drinking a Café Joyeux is a stronger commitment since it directly contributes to the recruitment of people excluded from the work force because of their disability.
Yann Bucaille-Lanrezac, the founder
Roasting and distribution
of coffee with purpose
Fueled by the enthusiasm generated by our project and motivated by all of you who asked us how you could help us in this great mission, we launched our own brand of coffee for sale to individuals and businesses on this site and in our cafes. -restaurants. This fair trade coffee is available in beans, ground and capsules.
We are committed to offering high quality coffee: specialty coffee, 100% arabica, roasted in Strasbourg and packaged by 30 people with disabilities in Paris.
Our roaster selects the best planters for you to find the finest vintages on lands at an altitude of over 600m.
100% of the profits generated are directly reinvested in the opening of our coffee-shops. So every cup of coffee directly contributes to inclusion!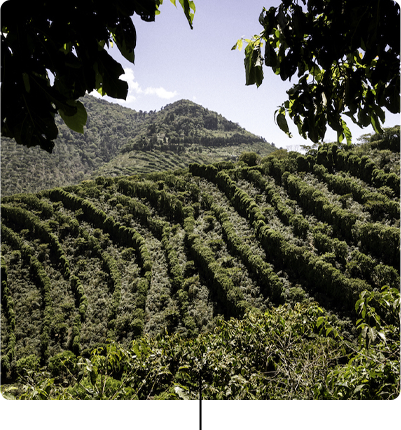 THE JOYFUL COFFEE FARMERS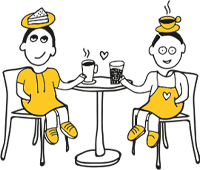 Coffee at home
Whether you like beans, capsules or ground coffee, drink Café Joyeux at home! In Europe, you can order your coffee or subscripe to recieve your favorite coffee every month at home. Café Joyeux will soon be available to purchase in the United States - Stay tuned!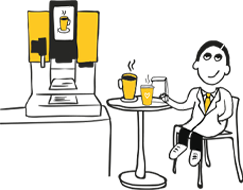 Coffee at work
How about convivial breaks around a coffee with purpose? Café Joyeux will have several offers for businesses including subscriptions and the rental or sale of coffee machines.
Notre gamme Our coffes

(Beans, capsules or ground)
Notre décaféiné est issu d'un procédé nommé principe d'osmose qui n'implique aucun solvant. Des notes épiciées de fruits secs de dattes et de noisettes. Our decaffeinated coffee is produced using a process called the osmosis which does not involve any solvent. Spicy notes of dried fruit, dates and hazelnuts. To discover it, 
click here
The original, a full-bodied coffee with good acidity, scents of white flowers and fruits. Notes of milk chocolate, jasmine and citrus fruits and a touch of fresh almonds. To discover it, 
click here
The Extra-Ordinary is round and soft. It surprises with its sweet freshness and its notes of dark chocolate, liquorice and plum. To discover it, 
click here
The Beaming is ample and fresh. a sweet touch, with notes of caramel, nuts and yellow fruits. To discover it, 
click here 
The strong is powerful, intense and round with a touch of bitterness. Notes of leather and tobacco, woody and caramelized aromas. To discover it, click here
 The organic is gourmet. Fruity with citrus aromas. Notes of caramel, vanilla and a touch of chocolate. To discover it, 
click here
Je tourne au Café Joyeux depuis l'été, et j'ai mis ma société au tout Joyeux aussi ! C'est un bonheur et en plus le café est excellent ! Bravo aux équipes d'avoir assuré la continuité pendant la crise sanitaire. J'ai déjà été livré à domicile de 300 capsules pendant le confinement, ça risque d'être insuffisant !
Reçu mes paquets de café en grains ! Aussi vite reçus aussi vite goûtés Ils sont exquis et de savoir que derrière cette dégustation individuelle on contribue à une aventure collective, ça les rend d'autant plus savoureux !
Commande passée ce matin ! Ce café est excellent et procure beaucoup de Joie ! :) Il y en a besoin en ce moment ! Bravo à tout l'équipage !